On this day in 1626, Dutch explorer Peter Minuit lands on what is now Manhattan island, and takes in all the sights in "the city that never sleeps."

On this day in 1927, the Academy of Motion Picture Arts and Sciences is founded, with the slogan, "All Art! All Science!"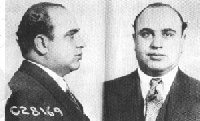 On this day in 1932, mobster Al Capone (above) enters a federal penitentiary in Atlanta, convicted of income-tax evasion, having claimed his cat, Mr. Fuzzywuzzit, as a dependent.



Return to This Day in History